A clean installation of macOS High Sierra
If a new version of macOS is available, there are a lot of people who consider doing a clean installation, a so-called clean install. You'll then get a fresh start on your Mac without taking all the previous problems.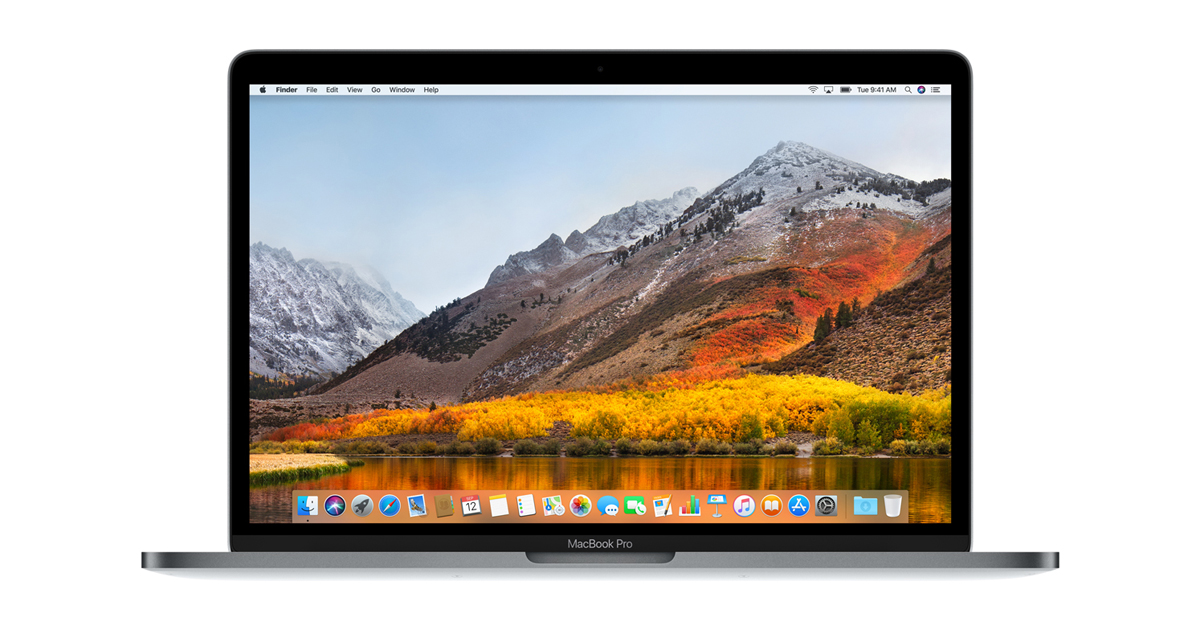 Caution: Make sure you always have a backup of all your files and data if something goes wrong! For example, you can do this through a Time Machine or another external hard drive.
Clean installation of macOS High Sierra or not?
The easiest method for macOS High Sierra is to simply install the update as soon as it becomes available in the Mac App Store. All user data will be retained. The big advantage is that you do not look around: you only have to press a button and have some patience. But you also take all the troops of previous installations. If you want to start a clean Mac again, you must run a clean installation. This will delete the entire contents of your discs.
Before you start, make sure your Mac is compatible. You can read this in our review article for macOS High Sierra. In short, all Macs that are already running MacOS 10.12 Sierra can easily upgrade to MacOS 10.13 High Sierra.
Two methods for clean installation High Sierra

There are two ways to run a clean installation:
From an external USB drive or external drive (recommended).
Directly on your Mac's boot disk.
For the first method you need:
The final version of macOS High Sierra, available from September 25, 2017, in the Mac App Store. An empty USB stick with at least 16GB of storage (files left blank will be deleted). A backup of your current Mac. For example, use Time Machine or Carbon Copy Cloner to make a full backup. This allows you to always return to the last working situation. Backups can be started right now before High Sierra is available for download.
Install macOS High Sierra from a USB stick
Before you get started, you'll need to install a version of macOS High Sierra from a separate USB stick. You need a USB stick with a minimum of 16GB of storage. Follow these steps to put macOS High Sierra on a USB stick:
Download macOS High Sierra from the Mac App Store.
After the download is complete, you must turn off the installation screen that appears, to prevent the installation from being started. Insert the USB stick into your Mac and give it a logical name, such as 'sierrastick'. It is important that no special characters are allowed. Start the Terminal program through Programs -> Utilities -> Terminal or locate it in Launchpad. In Terminal enter the command below. Note that the word behind Volumes must be exactly the same as the name of the USB stick.
sudo /Applications/Install\ macOS\ High\ Sierra.app/Contents/Resources/createinstallmedia --volume /Volumes/YOURUSBDRIVENAME --applicationpath /Applications/Install\ macOS\ High\ Sierra.app
After the Terminal has completed its work, you can close it and proceed to the next step.
Clean install macOS High Sierra
Installing a clean MacOS High Sierra installation is the next step in the process. Carefully follow the steps below, so nothing can go wrong.
Insert the USB stick with the High Sierra installer in your Mac and restart it with the Alt / Optn key. The macOS Startup Manager will appear with all bootable disks and devices that are connected. Select the USB stick that you prepared for installation and press Enter.
The Mac will now start from the installer on the USB stick. This may take a few minutes, depending on the speed of the USB port and USB stick. Once done, the Mac will return to the macOS Utility Startup window. You will get a number of options like Repairing a Time Machine Backup. Choose Disk Utility.
In the following steps, your boot disk will be completely erased, so you can start with a clean slate. Choose the desired boot disk. This is usually Macintosh HD.
Then click Delete to clear the entire disk. Also make sure the format is set to macOS Extended (Journaled) ( Or the new APFS. The Disk Utility will now erase the entire disk. Once done, you can close this program. After that you'll be at macOS Utility again.
Now select Install macOS and the installation of High Sierra will now take place. In the installation process, choose the right disk you just deleted, such as Macintosh HD. Following these last steps, you will be guided by the standard installation process of High Sierra. Once everything is done, you have a completely clean Mac with the latest version of macOS. Of course you have not lost everything. When you sign in with your Apple ID, all personal information such as calendars and emails will be synced with iCloud.